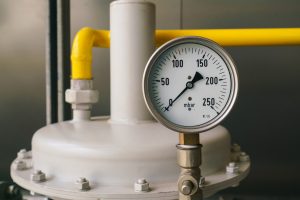 Boiler leaks are unfortunately one of the worst experiences a homeowner can deal with. They can cause all sorts of damage to your home, can cause your heating bills to skyrocket, and can ultimately leave you without heat in the middle of the wintertime. Keep in mind that while we'll talk about ways to notice if your boiler is leaking, or explore what might be going wrong with the system, we discourage any form of DIY repair work on a system like that.
Boiler repair in Wabash, IN is a complicated procedure depending on many factors, including where the leak might be and what caused it. Basically, this should always be done by a qualified professional, no matter how much experience you think you might have. Don't risk having your heater break down for the season!
Leaking Pressure Valve
Your boiler needs to be kept at a specific pressure in order to easily cycle the heated water through your home. If your boiler starts keeping water at the wrong pressure, it could eventually lead to leaks. Imagine a movie where a submarine dives too deep, pressure plays a big role in keeping water from leaking!
There are pressure valves around your boiler to ensure that it doesn't get too pressurized which would otherwise result in catastrophic issues. That being said, having a damaged pressure valve is a fairly common issue that can be resolved with the help of a trained technician.
Broken Seal
If you stick two metal pipes together without something to seal them, you can probably assume that the water will spill right where they meet. That's because your boiler pipes require seals to keep any water from leaking out. If you're noticing where your pipes meet with either your boiler or each other, then you might be dealing with a leaking seal. Contact a professional to get this replaced.
Corrosion
While we might know what corrosion means in general, homeowners might not exactly know what corrosion means in regards to your boiler. You see, your boiler is in close contact with water pretty much all the time. Water has a tendency to naturally erode solid metals like the metal in your boiler. That means, unfortunately, that your boiler isn't going to last forever.
Thankfully, corrosion can be pretty easy to spot. If you notice spots of rust on the outside of your boiler, chances are there's corrosion occurring on the inside as well! Contact a professional technician as soon as you can.
Contact a Pro
What we're mainly trying to say here is that all of these problems have no easy fix. A professional HVAC technician is going to have to give a thorough look into your boiler system to make sure it doesn't need a full replacement. After all, you definitely don't want a leaking boiler to continue damaging your home, as it could allow for the possible growth of mold and mildew in your walls and basement.
That's where the team at Collier's Heating & Air Conditioning comes in handy. Call us today! Collier's—A company you've grown to trust.