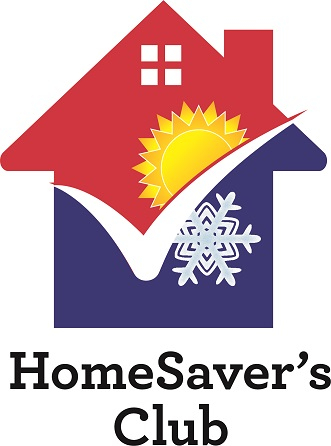 As you start to settle into the new year, you'll be using your heater almost every day. Did you remember to have it maintained back in the fall? If you didn't, please don't skip it for the year. A heating system needs to have professional maintenance done annually, or else it will start to age rapidly, turn inefficient, suffer from more repair needs, and maybe even develop safety hazards. You may also void the manufacture's warranty if you don't keep current with maintenance.
The HomeSavers Club Is Here to Help
If you want to have heating system maintenance taken care of as a one-shot, you could call up an HVAC contractor to schedule it. But there is a much better way to go about this so you have all your comfort maintenance needs taken care of for this year and the years to come. It's the HomeSavers Club at Collier's. This is a maintenance and comfort care program for your whole house that removes the burden from you of trying to keep track of all the household systems that need regular care and tune-ups. The HomeSavers Club provides annual maintenance for:
The Heating System
The Air Conditioning System
The Water Heater
The Humidifier
We'll alert you when it's time to schedule maintenance so you won't forget about it. Pricing starts as low as $9.99 a month.
This Is Definitely Worth It!
If you're still shaking your head and thinking, "This can't be that important; my AC and heater are working just fine," we want to emphasize the enormous benefits of regular professional service—and the many troubles it helps you avoid.
You'll prevent up to 80% of the malfunctions that might otherwise affect your HVAC system and water heater.
Inspections will catch troubles early, letting you schedule repairs before the cold winter or hot summer weather arrives.
Refrigerant recharges for undercharged AC and heat pump systems improve performance and increase system longevity.
Safety checks are vital for natural gas systems—you'll have peace of mind that your system has little chance of creating dangerous hazards.
ACs, water heaters, and central heaters will run at higher energy efficiency thanks to annual maintenance, and this can mean paying 25% less on your utility bills than you would otherwise.
Enjoy general peace of mind around the year that your comfort systems will work when you need them to.
To arrange for heating maintenance in Syracuse, IN—as well as AC maintenance and the other benefits listed above, call us.
It's Not Too Late in Winter to Get Started
You may have missed scheduling an inspection and tune-up for your furnace (or other heating systems) during the fall. But we're not too far into winter that it isn't worth it to have maintenance scheduled now. Call our offices and ask about the HomeSavers Club. One of our helpful team members will provide you with all the details about the program and then put you on the schedule for the soonest possible maintenance visit for the heater.
Maintain your comfort all year with Collier's Heating & Air Conditioning. For over 30 years, a company you've grown to trust.