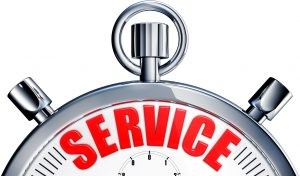 One of the best services that we offer our customers is providing regular maintenance for their heating and air conditioning systems through our Home Savers Club. Signing up for the Home Savers Club provides both your furnace and air condition with an annual maintenance visit to inspect, clean, and generally tune them up. If you haven't arranged to tune-up and clean your furnace, it's not too late to call us for heating maintenance in Columbia City, IN and the surrounding areas.
But why do this every year?
This is a question that we often hear. Homeowners sometimes think that having this done every years seems a bit extreme, or even wasteful. But it isn't. This isn't only something that we recommend. Furnace manufacturers recommend it as well. If you look at the warranty to your furnace, you'll find a clause that lack of annual professional maintenance can void the warranty. That's not something you want to risk.
But there are many other reasons that you'll want to have annual tune-ups aside from concerns about the warranty.
What actually happens during a furnace maintenance
To help you understand why this service is so vital, we'll need to tell you what you receive from a complete professional tune-up, inspection, and cleaning. There isn't an industry standard for how maintenance is done for a furnace, but hiring an experienced company such as ours, with decades of trusted work to our credit, ensures that you'll receive the most thorough possible service.
This is some of what goes into a furnace maintenance visit:
Analysis of the combustion gases to compare them to the unit specifications.
Checking the blower access door for tight sealing.
Inspecting the heat exchanger to find corrosion. This is a key safety step, since cracked heat exchangers will leak carbon monoxide into the living spaces.
Looking over the ventilation system for possible air leaks that can lead to a spike in bills.
Checking all the vents for blockage.
The burners are checked to see that they are igniting properly and to see that the pilot/electronic ignition system is working. If the burners need cleaning, the burner assembly must be detached first.
Checking the blower fan and cleaning it if necessary. This requires that technicians completely remove the blower wheel.
An amperage test on the blower motor checks to see if it matches unit specifications.
Air filters checked and replaced if they're clogged. (You'll need to do this on your own the rest of the year, so ask for assistance while the technician is there.)
Here's what all this provides you
Reading the above list will already give you a good idea of how this is a benefit for your furnace. The full rundown:
Safety: We put this first because we know this is first with you. The inspections and cleaning will help the furnace run with minimal safety risks.
Efficiency: Without annual cleaning to remove obstructions and stress, a furnace will start to drain more power and raise utility bills.
Longevity: A furnace will decay faster if it isn't routinely serviced. You want the most life possible from your system—and that's what annual maintenance delivers.
Serenity: This is the priceless benefit of regular maintenance… the peace of mind knowing the system will make it through the coming season.
Feel free to talk to our technicians if you have questions about our heating and AC maintenance.
Collier's Heating & Air Conditioning—Celebrating 30 years as a company you've grown to trust!