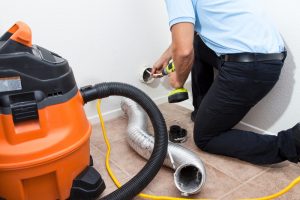 Spring means both house cleaning and financial cleaning. As you look over your taxes for the year and think about big-scale home cleaning jobs, it's easy to pass over a few cleaning jobs hiding out of sight. One of these is professional air duct cleaning.
You can't see most of the ductwork in your home, so it's no wonder you probably give little thought to having it cleaned. But if more than a couple years have gone by since you arrange to have the air ducts cleaned—or you've never had them cleaned—right now during spring and tax season is an excellent time to have it done. You can relax outside while the professionals do the work, or spend the time getting the last bit of your taxes finished.
When you need duct cleaning in Columbia City, IN or the surrounding areas, we're the people to contact!
How to Tell You Need Duct Cleaning
First off, if you've lived in your home for a few years already but have never had professionals clean the ducts, you don't need any external signs: you have dusty and dirty ducts in need of a thorough cleaning!
If you have had duct cleaning done in the past, we recommend scheduling it ever 3 to 5 years. You may want to move on it sooner if you start to see signs of debris build-up in the ductwork, including:
More dust collecting around the inside of your house, making cleaning more of a chore.
Dusty smells coming from the vents when the HVAC system is running.
A rise in AC and heating bills you can't account for, even when nothing is wrong with either system.
If you're in doubt, there's a simple step to take to get a close look at the ducts' condition. Open up one of the grills over a room vent, then take a digital camera like the one on a smart phone and reach down into the ducts. Take a picture using the flash, and look at what turns up. If you see something that looks like a clogged car air filter, then you'll know you're due for duct cleaning.
How Duct Cleaning Helps You
But why do this at all? If they're out of sight, why does it matter there's dust and lint along the ductwork?
It matters quite a lot! We mentioned above that a rise in heating and cooling bills can warn of a major dust build-up in the ducts. In general, clogged ducts will lower AC and heating efficiency and cause utility costs to rise. This is because of all the extra friction against airflow created in the ducts. This large amount of contaminants in the ducts can also lead to damage to an air conditioner or furnace, interfering with motors and coils and creating a need for repairs.
Finally, all that debris inside the ventilation system can cause a drop in a home's indoor air quality. Removing this massive reservoir of air pollutants helps make for a healthier environment, especially if people with allergies and asthma live are your household.
Right now we're offering a great deal on having your duct cleaning done: schedule for spring and you'll receive $50 off.
Collier's Heating & Air Conditioning: A Company You've Grown to Trust!