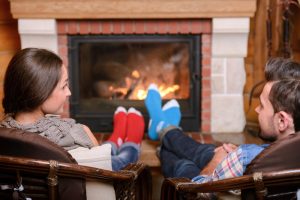 The fireplace is the oldest type of heating system that's still in use. Fireplaces developed in the Middle Ages inside drafty castles because they allowed for the better direction of heat than the large central fires that buildings once used. The fireplace also created radiant heat of the bricks and stones around them, adding further warmth to a space.
Today, we keep our homes warm with forced-air and radiant heating systems like furnaces, heat pumps, and boilers. The fireplace is no longer our main source of warmth—but it certainly is a fantastic addition to the coziness and beauty of a house. If you are interested in a fireplace installation in Plymouth, IN or elsewhere in Northeastern Indiana, the place to come is our Fireplace Shoppe. We have plenty of great options to make your home more beautiful this winter and many winters to come.
Wood log fireplace
Why not go with a classic? The wood log fireplace is still around and still common, even with other options for powering a fireplace on the market. There really is nothing as wonderful during a winter evening than to have crackling logs on a fireplace and the wonderful aroma of burning wood wafting through the living room. We often recommend wood log fireplaces for homes that expect to make extensive use of the fireplace.
Pellet stoves
You don't need a huge chimney and massive installation to enjoy the warmth and coziness of a fireplace. You can have a free-standing stove put in, which connects into the wall to vent up through a pipe. The stove walls heat up to create great radiant warmth.
But what's the "pellet" part of the freestanding stove? Wood pellets are an inexpensive, natural way to provide fuel for the fire. They are condensed and release more energy than standard wood. The pellets are inexpensive and will help you save money compared to wood-burning fireplaces and even some gas models.
Gas log fireplaces
The choice for fireplace that many homes go with today is the gas log model. These fireplaces connect to the natural gas line for the home and use porcelain logs to create the appearance of a classic fireplace—but without the issues with creosote build-up and complex ash clean-up. Natural gas is an inexpensive energy source and burns cleanly, and it's as easy to light up the fireplace as switching on a lamp!
You don't have to worry if you don't have an idea yet about what type of fireplace you want for your home. Part of our job is to see that you have the finest installation possible, and that means matching you with the fireplace of your dreams.
In addition to these above fireplace options, The Fireplace Shoppe also carries BBQ grills and outdoor furniture. Our experts provide services for current fireplaces to keep them in repair and well-maintained. (This is especially important for wood-burning fireplaces to avoid creosote build-up and possible chimney fires.) Contact us today, or come by the Fireplace Shoppe to see what we have to offer.
Collier's Heating & Air Conditioning serves Warsaw and Northeastern Indiana. A Company You've Grown to Trust over more than 30 years!